Registration is now open!
Hotel Information
Tropicana Hotel, Las Vegas, NV
2018 Program Highlights
Exhibitor Information
Bulk Registration Discount Program
The more technicians you send from your company, the less you pay! Send 20 and only pay for 18! Send 30 and only pay for 25! Please contact the NANT office for more information.
Bulk Registration Information
Session Information
Workshops | General Sessions | Concurrent Session Tracks
2018 Workshops
We offer 2 full-day and 2 half-day pre-symposium workshops on Monday:
Vascular Access Workshop (8:30 - 12:30)
Chemistry for Biomedical Technicians (1:00 - 5:00)
B. Braun and MarCor will offer a workshop on Water Treatment that will provide an overview of a wide range of water treatment issues and solutions.
Fresenius Medical Care will offer a workshop providing opportunities for technicians to gain a deeper understanding of troubleshooting their dialysis machines.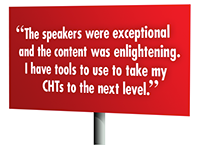 There is an additional charge to attend these workshops, which include refreshment breaks (but not lunch). To ensure your participation, you must register in advance. Full day Workshops begin at 8:30 am and end by 4:00 pm, with a break for lunch. All workshops offer up to 6.6 contact hours. Space is limited – register NOW!
General Sessions
Wednesday
Medical Director's POV: What the MD needs from the staff to improve patient outcomes
Changes in Healthcare Economics: How this impacts the technicians
How to Avoid Injuries with Safety Initiatives
KCER: CMS Emergency Preparedness Rule Training
Roles of Technicians/Technologists in Patient Outcomes

There are No Shortcuts to Dialysis Outcomes: Theory vs. Practical vs. Policy

Thursday
CMS Survey: What Can You Expect?

Life Inside a Single Hollow Fiber
Friday
Urine-spiration: A Patient's Journey Through Dialysis

How to Communicate Positively & Effectively with Nurses and Physicians for Outcomes

Avoiding the Pitfalls fo Recertification: Your Livelihood Depends On It

Concurrent Session Tracks
Thursday
Clinical
AKI: Acute Kidney Injury

Nutrition on a Budget

Vascular Access
Making Dialysis Safer for Patients

Sexuality of the Dialysis Patient

Biomedical
Water Treatment

Disaster Preparedness

Evolution of AAMI/ANSI Standards: Harmonizing with ISO
Exploring OSHA Regulations in Dialysis

Biomed: What Would We Do Without You?

Speaker Information
(Page last updated on 1/15/18)