20-23 February 2017, Tropicana Hotel, Las Vegas, NV
Zeroing in on Quality Care with Innovation, Education, and Motivation
2017 Contact Hour Certificates
You can print your own certificate by going to www.mtsreport.com/nant/17 Enter your last name as it appears on your badge and the four digit number on your badge. You can look up your name to get your four digit number here.
2017 Symposium Presentations
Hotel Information
2017 Program Highlights
Exhibitor Information
Bulk Registration Discount Program
The more technicians you send from your company, the less you pay! Send 20 and only pay for 18! Send 30 and only pay for 25! You can chosse the bulk discount option when you go to the Symposium Registration page.
Session Information
Workshops | General Sessions | Concurrent Session Tracks
2017 Workshops
We offer 2 full-day and 2 half-day pre-symposium workshops on Monday:
CMS Workshop (8:30 - 12:30)
Chemistry for Biomedical Technicians (1:00 - 5:00)
B. Braun and MarCor will offer a workshop on Water Treatment that will provide an overview of a wide range of water treatment issues and solutions.
Fresenius Medical Care will offer a workshop providing opportunities for technicians to gain a deeper understanding about troubleshooting their dialysis machines.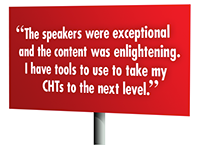 There is an additional charge to attend these workshops, which include refreshment breaks (but not lunch). To ensure your participation, you must register in advance. Full day Workshops begin at 8:30 am and end by 4:00 pm, with a break for lunch. All workshops offer up to 6.6 contact hours. Space is limited – register NOW!
General Sessions
Tuesday
Dialysis History of Innovation
How to Get Difficult People to Change
It's YOUR Responsibility to get Quality Care from the Machines
Technical Issues Facing Dialysis Today: Technical Directors Point of View
Developing an Active Shooter Policy
Thursday
Urban Kidney Coalition

Technology Trends in Hemodialysis Water Treatment for the Future
Caring for your Hands so You can Care for your Patients
Concurrent Session Tracks
Wednesday
Clinical
Surgical Assessment and Management of the Potential Kidney Transplant Recipient
Principal Equations of Dialysis
Fluid Management: What can the Nephrology Clinical Technician Can Do to Help?
Treatment Options for Patients
Biomedical
AAMI – What is it and how does it impact the biomed?
Using your Buying Power to Improve Dialysis
Discrepancies in Methods in Dialysis Standards: AAMI, ISO, CMS – How to Cope!
Metrology for Biomeds
Hands on for the Biotech
Speaker Information
(Page last updated on 11/02/16)