Thanks for attending this year's event!

21-24 March 2016 – Tropicana Hotel – Las Vegas, Nevada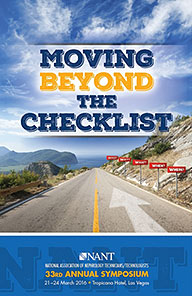 Our three-day symposium is designed to provide important information for both biomedical (NBT) and clinical (NCT) nephrology technicians. Our general sessions feature significant topics of interest to all technicians while we offer a full day of sessions aimed at either the NBT or NCT. You can't afford to miss this year's symposium!
< Click image for more detailed Symposium program information
The 2016 Symposium Featured...
General sessions on Tuesday, March 22 featured:
Patient Relations – Relating Patiently Patti Wood, MA, CSP
Product Development: Meeting Needs Beyond the Checklist Curtis Woods
Dialysis Reimbursement: How Has it Changed? What Does the Future Hold? Anthony Messana
Disaster Preparedness, Larry Park, MSPH, CHCM, CPEA
Chemical Reactions in Dialysis, John Sweeny, BS, CHT
Who is Watching? Who is Hacking? Anthony Giandomenico
Concurrent sessions on Wednesday, 23 March included a full day of focused sessions for Nephrology Clinical Technicians and Nephrology Biomedical Technicians.
Thursday's general sessions included these presentations:
Bringing Empathy to the Dialysis Facility, Robin Siegal, MA, MSW, LCSW
From a Patient's Perspective, Troyce Crucchiola
Going Beyond the Checklist, Susan Novak and Kidney Kleaners Chapter
Monday will feature a range of pre-Symposium workshops at a slight additional fee. One new workshop this year will provide a full day focus on Professional Development for Nephrology Technicians/Technologists. The Fresenius Troubleshooting Workshop and MarCor Water Treatment Workshops are back by popular demand.
---
IMPORTANT When planning your travel, be sure your flight does NOT leave before 1:30 pm on Thursday. You don't want to miss our full morning of speakers on Thursday, especially dialysis patient Troyce Crucchiola. That way, you will earn all the contact hours you possibly can from this symposium towards your recertification.
---
Come to Club NANT
Wednesday night at the new Havana Room at the Tropicana.
Light appetizers and cocktails
Music and dancing
Prizes
Sponsored by GIA Medical
---
NEW THIS YEAR!
Because of the tremendous support of our exhibitors, we are adding lunch for all participants in the exhibit hall on Wednesday, March 23.