21-24 March 2016 – Tropicana Hotel – Las Vegas, Nevada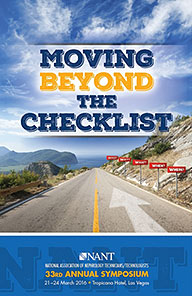 This year's symposium focuses on brushing up your dialysis skills to improve the quality of care to the CKD patients in dialysis. From our pre-symposium workshops through our three day symposium, we zero in on different dialysis topics designed to brush up your skills.
Certified? Earn up to 16.1 contact hours towards your recertification, and up to an additional 7.2 contact hours for a Monday workshop.
Affordable – Hotel rooms are just $96 per night!
Learn about the latest dialysis technology products and services in the only exhibit specifically designed for dialysis technicians
In fact, NANT is so confident that it can provide technicians with important contact hours and critical educational information that it is offering a money-back guarantee. If you attend all of the educational sessions and do not earn at least 15 contact hours and learn three new ideas, NANT will refund your registration fee.